Audibles
Links and laughs from the sports world
On Fridays, I'll share some interesting and/or fun links to sports media.
Long reads
David Perell on US Open Champion Bryson DeChambeau
DeChambeau has taken an unconventional—to say the least—approach to his success and Perell covers it nicely in this Tweetstorm.
Podcasts
🎧 The James Altucher Show, Episode 637, with Richard Stutts
Stutts is the owner/CEO at Win Big Media, a political marketing and data firm. Much of the discussion involves 2020 presidential election data.
But James and Richard also discuss the statistical disconnect between sports audiences and the social justice messaging championed by the pro leagues and ESPN. There is a large chasm between what sports audiences want and what they are getting right now, and that could impact ratings, trust, and engagement in the future.
Books
Reading now
📚You Can't Make This Up, by Al Michaels. Michaels takes us through his extraordinary broadcasting career, which started on the baseball fields of Arizona State. From there, Michaels has called so many of the greatest and most memorable moments in sports history.
Fashion
We know coach Belichick likes his sleeveless sweatshirts. But adding collar bone ventilation is some next-level style swag I didn't see coming.
Who owns the Dolphin's single-game record for pass completion percentage?
If you said Dan Marino, you'd be wrong.
Ryan "Fitzmagic" Fitzpatrick owns that record after completing 18 of 20 passes in a win vs. the Jaguars last night.
The broadcast team chronicled Fitzmagic's facial hair transition, from "none" to "woolly mammoth." You have to respect his beard game.
Fitz keeps a copy of the playbook in his beard, for quick reference. Several reports speculate the Dolphins' offensive coordinator calls the plays from in there, as well.
TV (or whatever we call it these days)
All times Eastern, because I'm selfish that way.
College football
🏈 Florida at Ole Miss, ESPN, Saturday, 12P. The traveling circus that is Lane Kiffin is back in the SEC, where he runs smack into a tall order against SEC East favorite Florida.
🏈 Kansas State at Oklahoma, Fox, Saturday, 12P. Oklahoma's QB is named Spencer Rattler, the most Oklahomian QB name ever. Speculation suggests Rattler will use a dowsing rod to decide which receiver to throw to.
🏈 Florida State at Miami, ABC, Saturday, 8P. I'm old enough to remember when this game had national implications. Now, it simply upsets viewers who tuned in hoping to catch an episode of "Who Wants to be a Millionaire," which, incidentally, has also been the Hurricanes' recruiting strategy at various times in its history.
NFL
🏈 Dallas Cowboys at Seattle Seahawks, Sunday, 4:25P. Dallas may still be exhausted by its insane comeback victory last week, where the Falcons acted like the cardboard cutouts in the stands during a crucial onside kick recovery.
🏈 L.A. Rams at Buffalo Bills, Fox, Sunday, 1P. One positive of the COVID-driven lack of fans in the stands NFL experience: Thousands of folding tables will have their lives spared in Buffalo this season.
🏈 Kansas City Chiefs at Baltimore Ravens, ESPN, Monday, 8:25P. To the dismay of Twitter meme makers everywhere, Chiefs coach Andy Reid ditched his face shield after Week One. Unfortunate. He tried it all: hot air, cold air, cracking the windows, even shower cleaner. Nothing cleared the fog.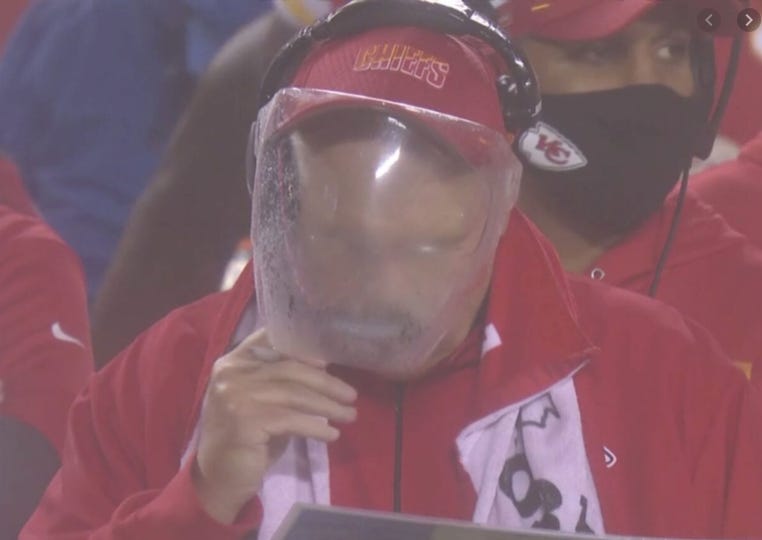 Reid hopes his defense will avoid a similar fog while chasing Lamar Jackson around the field on Monday.
NHL
🏒Tampa Bay Lighting at Dallas Stars, Game 4 (in Toronto), NBC, Friday, 8P.
🏒Dallas Stars at Tampa Bay Lighting , Game 5 (in Toronto), NBC, Saturday, 8P.
Come on. The Lightning are really good. Someone outside Tampa should really tune in. Someone. Anyone. Bueller?
The closer
Vin Scully is a national treasure.